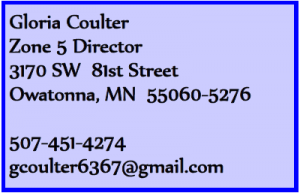 Reelected Zone 5 Director at Cedar Rapids District Convention; new term through June 30, 2018.
My grandfather came to America from Norway in 1903. It was important to him that we know about our Norwegian heritage. I'm so grateful for all the stories he told and songs he taught us. I hope to pass that on to the next generation.
I am a member of Nortonna Lodge in Owatonna which is an active lodge with 175 members. I served as President 3 years ago and got to attend several conventions including the one in Coeur d'Alene, Idaho. We have four sons and two of them live in Coeur d'Alene, so the trip had dual purpose.
I have taught music in Owatonna for 36 years and retired for 5 years. We have an acreage south of Owatonna in Hope, MN. I play organ for two rural churches and volunteer at the Steele County History Center in Owatonna.