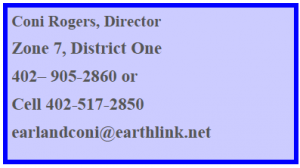 Glitne Sioux Viking Lodge: Celebrated their lodge's 100 year anniversary with a fantastic dinner celebration. They had a marvelous display from the beginning of the lodge to present. Wonderful food and terrific musical groups made a night of great enjoyment.
Overland Park Lodge: Once again had a wonderful booth at the Ethnic Festival held annually in Kansas City. The lodge has a craft club that meets all year producing Nordic themed items to sell. They also had three (3) lodge members receive their language cultural pins.
Des Moines Lodge: has had many great programs. We went to their program on geneaology that was exceptionally well done.
Omaha Lodge: Is getting ready for their big money maker of the year, a torsk and meatball dinner. We will be having three (3) seatings of 94 guests on October 18th. Lots of preparation and work goes into the smooth running of the annual event. The lodge participated in three parades over the summer months.
Davenport Lodge: They are really getting their in-formation out about Norway as the library is hosting a 2 month expose on Norway's culture. So lots of lectures, exhibits, and demonstrations are being done by lodge members. It was exciting to hear what is going to be ex-hibited to the patrons of the library.
Decorah Lodge: The Nordic Fest was another big success, lots of the lodge members worked long and hard to forward our Norwegian heritage. Norm Carlson, my husband and I manned the Sons of Norway booth during the festival. Lots of fun and work. We met so many peo-ple and answered lots of questions.
Story City Lodge: They had had a busy summer – think this lodge would win any contest on the amount of
publicity they are able to get into the local papers.
Forest City Lodge: In all my visits I can honestly say they are the best Norwegian dessert bakers, it was like my parent's Christmas Eve smorgasbord.
Cedar Rapids Lodge: They are busy completing plans to make the 2016 District Convention a super one. Each lodge should be selecting their delegates to vote and bring back information from the meetings.
Cedar Falls Lodge: Just held a meeting on history of the black fiddle.
So like all lodges, nominating committees are busy asking lodge members to run for office and plans are being made for Christmas celebrations as we start to have cooler days and shorter sunlight.