Zone 4 – Western Minnesota
Zone 4 Director: Jerry Wright
490 Second St NE
Glenwood, MN 56334
320-463-4306
wrightsj@charter.net
Member of Mjøsen Lodge 1-175 since 1990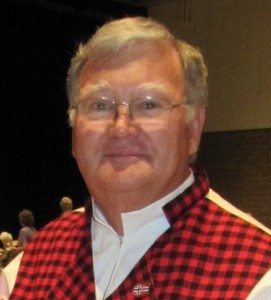 Currently Lodge Publicity Director, Past president, vice president & sport director
2nd Term as Zone 4 Director
Attended International Sons of Norway Convention and Leadership Conferences in 2016 and 2018
Retired from University of Minnesota Extension Service (1976-2009) BS (1967) & MS (1969) Agricultural Engineering Degree from NDSU
Married to Susan Wright for 48 years, 3 children and 7 grandkids (Sue has taught our kids and all the grandkids how to make lefse)
Maternal grandparents' Peter Rogstad (1906 – Kongsberg, Norway) and Karen Østhagen (1907 – Rendalen, Norway) emigrated to Minnesota; 1912 married and homesteaded near Lostwood, North Dakota.
Visited Norway 4 times and have connected with many 2nd cousins in the Kongsberg and Rendalen areas and keep in touch with them regularly thru email and Facebook.
Involved with the Glenwood Lions, Glenwood Lutheran Church, Morris Lutheran Campus Ministry
Enjoy gardening, photography, genealogy, traveling and visiting grandkids and relatives.
Zone 4 Lodges:
Bjørgvin 10, Benson, MN
Heimskringla 12, Fergus Falls, MN
Leif Erikson 32, Vining, MN
Nornen 41, Madison, MN
Fedraheimen 59, Willmar, MN
Mjøsen 175, Glenwood, MN
Jaabæk 264, Montevideo, MN
Elvidal 509, Granite Falls, MN
Vennskap 554, Canby, MN
Norskfødt 590, Morris, MN